Hair Transplant Repair
Hair repair procedures  rework and address a patient's concern over a prior surgical hair restoration procedure.
There are many surgical hair restoration methods that have become antiquated and obsolete in light of today's technology. These methods have come to do more harm than good, producing subpar results, leaving scars that widen and stretch over time, and depleting the main donor source. Now, a prospective patient searching for a permanent hair loss solution will find the tools, methods, and achievable results of modern techniques to be remarkable. Many patients of years ago were not so lucky. Also, many still resort to strip surgery as a modern solution, even though it guarantees linear scarring.
Fortunately, hair transplantation has evolved such that it has the ability to repair those surgeries that went awry, and encompasses even the direst of repair cases. Prior patients of botched surgeries are getting a second chance through the innovation of follicular unit extraction (FUE) and body hair to head transplantation (BHT).
WHAT TYPES OF BOTCHED SURGERY OR DAMAGE IS REPAIRABLE?
Depending on the health and demographic of the patient and the availability of non-head donor sources, nearly any botched hair restoration can be repaired.
There are some outdated methods that have been known to cause severe damage in the long-term aftermath of surgery, as well as commonly occurring types of damage. Some such cases—all of which have been successfully repaired—include:
Scalp reduction
Temporoparietal-occipital flaps (aka, Juri flap or Flemming Mayer flaps)
Punch grafting
Strip harvesting/strip scars
"Doll's hair" appearance
Poorly placed/angled hair
Asymmetry
Depletion of head donor source
Harsh hairline
Scalp Reduction
Scalp reduction is a surgery in which the bald area is excised for the hair-bearing skin to be stretched up, pulled together, and stitched or stapled closed. This procedure does not actually restore the hair, but rather gives the appearance of restoration. It is extremely invasive with many potential complications and risk factors, including scarring (slot formation), infection, and permanent nerve damage.
The pictured patient underwent several hair restoration surgeries prior to the repair procedure that changed his life. He'd not only had several surgeries, but all different types—from strip harvesting to flap surgery to punch grafting—leaving an array of damage. However the procedures thatseemed to leave the worst disfigurement behind were his multiple scalp reductions. The patient developed a severe slot formation as a result.
Dr. Umar used 22,000 grafts derived from the chest, stomach, shoulder, beard, and some from the head. Body hair to head transplant proved a successful and life-altering repair technique.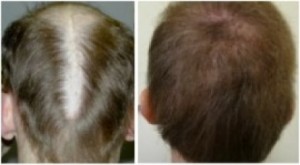 "Doll's Hair"
This result has an obvious connotation from its name. Typically, the "doll's hair" look is caused by the outdated punch grafting method. Due to the large punch sizes (4.0 mm) of this old technique, large round 4.0 mm scars became present afterward, as well as the pluggy appearance of implanted hair.
The following patient had undergone multiple strip surgeries. Aside from the usual strip scar, he also endured severe ridging and an appearance of plugginess along the hairline. For years, the patient styled his hair forward in the front to mask the obvious "doll's hair" result of his surgeries.
After extracting the pluggy implants, Dr. Umar recreated the patient's hairline employing his FUE uGraft technique with head and nape hair.

Punch Graft Scars
Punch grafting explained above, in "Doll's Hair."
The following patient, who suffered with an NW6 level of baldness, entrusted his hair restoration to punch grafting. The transplanted hair never grew. He was, at that point, not only bald but also imprinted with large round punch scars across the top of his scalp. He resorted to wearing a hair piece, however, still needed his temple points and hairline restored to blend the toupee and make it appear real.
With insufficient head donor hair to use, Dr. Umar pulled from the beard, chest, and stomach to give the patient a new, natural-looking hairline. The hairpiece is now undetectable.

This next patient also had a previous strip surgery of 1,800 grafts, leaving him with the inevitable linear scar. As a person who enjoys a short "buzz" haircut, he felt dissatisfied being confined to a longer hairstyle that would help conceal the scar. In addition, the patent's pattern baldness was progressing.
After three surgeries and a total of 5800 grafts from the beard, nape of the neck, and head, the patient's scar is totally concealed and he is able to wear his buzz cut with confidence.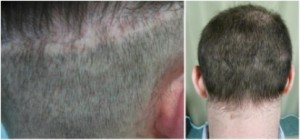 Asymmetry
Resulting asymmetry can occur in the same manner as poorly placed/angled hair, explained above.
A previous FUE surgery left the following patient desiring more density, and evenness across his scalp. His 3600 grafts that had been transplanted outside of DermHair Clinic were placed with subpar accuracy, leaving his hairline and mid-front coverage noticeably asymmetrical.
Dr. Umar harvested a total of 6100 grafts from the body, beard, and head to fill in the density with a global design in mind. The result was a fuller, more even head of hair.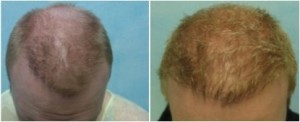 Harsh Hairline
A harsh hairline typically results from any surgery in which the donor source is confined to a certain area (where hair tends to be thicker) or poor donor hair selection on behalf of the practitioner. The former is more often the case, with the main culprit being strip surgery. This method restricts the donor area to the mid-back portion of the head, where scalp hair is thickest.
After three strip surgeries, the following patient realized that this method would not achieve his desired hairline. The subpar results of his strip harvesting experience left him with a harsh, unnatural-looking, asymmetrical wall of hair framing his face.
Dr. Umar only had to use 1000 FUE grafts to re-structure his hairline, making it appear soft and gradual, and correcting the symmetry.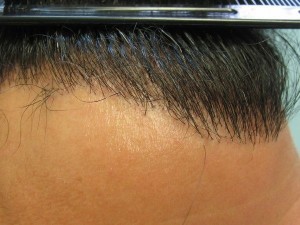 EMOTIONAL JOURNEY OF A REPAIR PATIENT
Patients who entrust their hair restoration to a medical expert, only to have their hopes and expectations shattered—with their condition sometimes made worse—may understandably experience an onslaught of emotional turmoil. These patients are often traumatized from such a poor surgical experience, resulting in distrust of their future repair doctor, skepticism over another surgery, and added anxiety about the worst possible outcome of a repair attempt.
An experienced repair surgeon knows that trust must be re-established gradually. Skepticism and anxiety may subside in time, as well. And if not, hopefully the outcome will abate these lingering inhibitions. Care is taken by the surgeon not to over-promise and to keep the patient's expectations in check.
After a successful repair, the patient usually needs time to adjust to his improved situation and its corresponding social implications. The elation, relief, and confidence thought typical of a successful outcome is not always a given. Reaching that emotional response may take time.
WHAT TO LOOK FOR WHEN CHOOSING A SURGEON FOR REPAIRING PRIOR HAIR TRANSPLANT PROCEDURES
Needless to say, it is important to be cautious when looking for a repair surgeon. While it is always possible for complications to arise—even in the best of hands—finding a reputable doctor who is experienced in hair transplant repair will minimize risks. Do your research. Seek out a doctor who has photo- or video-documented proof of his experience and enduring success rates. In addition to using an advanced surgeon, look for the following qualities in your practitioner:
That he or she has the gift of artistry. Each repair situation is unique, and requires the doctor to gather a quick understanding of what will be needed for long-term success. The big picture must be recognized and envisioned with forethought. Each session should be a piece in a greater jigsaw puzzle, so to speak, that falls into its predetermined place. A one glove fits all approach would not be useful.
That he or she is adept at FUE and BHT. Often the patients cannot tolerate another strip scar or the thought of it. Usually another strip surgery is not possible due to insufficient scalp donor hair or loss of scalp elasticity. With no donor hair, a damaged scalp, and excessive scarring, using body and beard hair is the only recourse for most.
To see an example of a patient's successful hair repair surgery, read more.