Body Hair Transplant (BHT) by uGraft
Follicular unit extraction circumvents the linear scar caused in the strip harvesting hair restoration method by excising donor grafts individually from the head. This dramatically decreases overall scar visibility and healing time, and increases long-term patient satisfaction. But that is not all FUE is good for. The use of body hair in the aptly named body hair transplant method is solely possible with FUE as its base.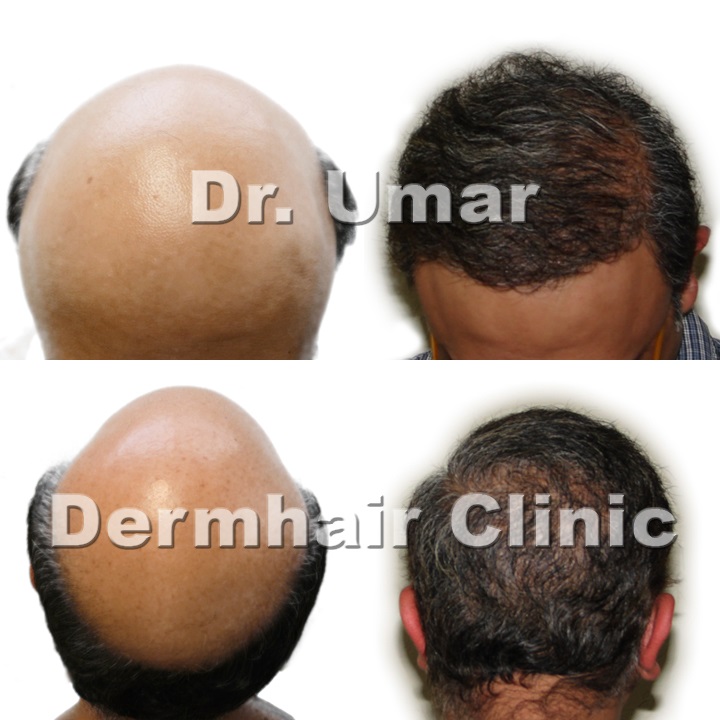 For those with moderate to severe hair loss, the scalp donor supply may not be adequate to source a successful procedure. Thus, advanced FUE surgeons can turn to a combination of head and body hair, or use all body hair. A combination procedure streamlines the incorporation of non-head hair, giving an even aesthetic balance to the outcome. However, even when all non-head hair is used, advanced surgeons are also able to utilize specific follicles for their fineness or coarseness to best blend amid the scalp (i.e. leg hair vs. beard hair).
uGraft – The Tool of Advanced Follicular Unit Extraction
While the use of body hair is a leap forward for hair restoration in and of itself, the uGraft harvesting tool evolves the methodology even more.
What Makes uGraft Different?
UGraft devices address two challenges in Follicular Unit Extraction and the use of body hair grafts:
(1) extraction of  hair that grows at irregular angles and curves
(2) creating healing outcomes where any traces of donor wounds are  visually unnoticeable
With regular FUE punch tools, the outer edge needs to create a round excision that does not harm or bury the follicle. However, there are many cases where the hair does not grow at a straightforward, 90 degree angle. Also curly hair will grow in curved directions. This can make it difficult to position the punch accurately.
To account for these issues, UGraft tools have been designed with the following features:
(1) subtle pulling mechanism to help separate the follicle from surrounding tissue. This minimizes transection rates and the risk of graft burial
(2) ability to create customized 0.8mm punching tips through digital software. This allows the excision punches to be made in the form of specific shapes to optimize the final healing results in the donor areas. Although most patients experience complete healing, The scalp and body appear unscathed after healing. Any scarring that does occur is negligible.
UGraft tools are motorized, but handheld. This helps enforce the surgeon's ethical responsibility to ensure that each graft is viable. The   primary objective of this cutting edge hair restoration technology is  to produce the best possible result, not to expedite speed. Therefore, it is not robotic or automated, but completely surgeon-controlled.
uGraft Surgical Protocols
The uGraft methodology involves more than just technology. It also includes surgical processes that are implemented before and after the procedure to further enhance the quality of the end results.
Body Hair Transplant at DermHair Clinic
There is no need to suffer with thinning hair for fear of a hair transplant gone wrong, or because you lack sufficient scalp hair. DermHair Clinic leads the world in the use of body hair, while offering personalized care and attention to each patient. Contact Dr. Umar today for a free hair restoration consultation, or call our office to learn more.
Here is another patient example of uGraft results through Advanced Follicular Unit Extraction. His procedure involved 14,000 grafts. To learn more about his story, click here.